Experience
clients
what clients say
"[Catherine's] presentation style and well-researched content left me with a much greater awareness."
– Jane Porter, Metro Vancouver

"Catherine is a strong communicator – both clear and concise. ..[She] also opened up my view by giving me new ways to think of ideas and concepts."
– Christine Kutzner, CK Counselling

"The most powerful elements of the workshop were the exercises that revealed the culture of our organization -both negative and positive, strengths and weaknesses, what we have to offer that is unique.

It really expanded many of my narrow perspectives around branding, supporters, and marketing. These exercises revealed things we assume, take for granted or don't see. Hearing from others on topics that I have an engrained perspective about was very revealing.

It opened all of our eyes to critical branding/ marketing/organizational issues we haven't being paying enough attention too or understand very well. I definitely saw the importance/value of creativity as a fundamental part of our work."

– Misty McDuffee, Raincoast Conservation Foundation

After a session with Catherine I went from being filled with anger and hate for another individual, to understanding the anger, releasing the anger, to being in one of the most Zen like calming states that I have ever felt. And the best part is, the effects are permanent! I no longer hold that anger and hate for that individual.

Thank you so much Catherine for all your help, I could not have done it without you.

Tyler D, Vancouver, British Columbia

"Sherlock [Ink] was able to take one of our projects from a vague concept to develop a refreshing new direction that has formed a solid foundation for us moving forward."
– Edwin Hubert, Director, Stewardship Centre for BC
"[Catherine] brings a high level of expertise and experience to the table. She was inclusive and accommodating to the diverse nature of our group. We wouldn't hesitate to retain her services again."
– Mark Johnson, Fisheries & Oceans Canada
"One of the most creative people I have ever worked with."
– Harry Parsons, Bufo Inc.
"Her research has hit the nail on the head: the recommendations have made sense for us to adopt and the reports are standing the test of time with enough depth to allow us to grow as we become more sophisticated."
– Roger Bean, Metro Vancouver
"Catherine was able to look at my company objectively and see areas where I could improve and dramatically increase my business. She has the ability to see what any owner of a business can't see for themselves. This is an invaluable resource and asset to growing your business and taking it to the next level quickly. Catherine was bang on and her information extremely valuable."
– Jan Janzen, President of Women Empowering Women Inc.
"Catherine's depth of ability and resources are impressive…[she] is an excellent listener – she can pry when needed, make sense of what you're saying quickly and capture the essence in order to take it where it needs to go. She really made it easy and certainly opened my eyes to potential that I couldn't see on my own."
– Glenn Duxbury, Glenn Duxbury & Associates Building Inspection and Consulting
Just prior to a major speaking engagement I began to feel very ill physically. It was a real blessing that Catherine was there and that I was able to benefit from her healing gifts. I went from thinking I'd have to cancel to being able to carry on as if nothing had happened. It was remarkable. Since I first met Catherine many years ago, I've witnessed her help many people with physical and emotional challenges.

-Monique MacDonald, www.yoursacredgifts.com

Phenomenal! I felt fabulous and am feeling the residual feelings of being relaxed and super energetic.

-Debbie Reynolds, About Face Image Consulting, Inc.
case studies
Public Engagement Amidst Controversy
We developed a management plan for a conservation area containing old growth in the Municipality of West Vancouver.
Simple, right? Except there was a proposal to locate a mountain bike park right next door.
Suffice it to say that when you put the words, "old-growth" and "mountain biking" in the same sentence, you get a fair bit of excitement. To add a little extra flavour, there was some history. A previous proposal had been intent on turning the area into a golf course. Feelings over that battle still lingered.
We developed a stakeholder input process that included a number of open houses as well as workshops and meetings and created respectful dialogue amongst the various stakeholders. The result? We delivered an outcome that satisfied all parties and was even celebrated in Council.
The Headache Behind Organizational Development and Capacity Building
If you've ever ventured into the world of organizational development and capacity building, then you know it's fraught with problems.
There's no clear definition, no agreed upon components, strategies or best practices.
That makes it challenging to do effectively.
The Stewardship Centre for British Columbia wanted to support and strengthen the stewardship sector by helping organizations build their capacity. They hired us to help.
We determined the current status of capacity building, cycling through a myriad of literature and other materials and conducting interviews. We then identified gaps and put together a plan of next steps.
Capacity building is a hugely complex field for organizations to approach effectively, so we developed a framework to simplify it. We shopped the framework around to various non-profits throughout the province to get feedback. It was well received; in fact, some were so excited to have it as a tool that they said they would put it to use immediately.
Pleased with what we produced, the Stewardship hired us for a second phase. In Phase I, we'd discovered that organizations often struggle to quickly identify capacity building needs and priorities and understand best practices. So, in Phase ll, we developed a capacity benchmarking tool to empower non-profits in their capacity building.
sample projects,
(mostly from my environmental consulting days)
A few sample projects. Many of the reports I've delivered over the years have been internal documents that belong to my clients.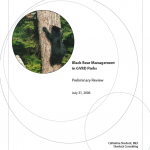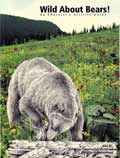 Created a concept plan for an education centre and program on the Skowkale Reserve – "Skowkale Hatchery Revitalization & Education Project (SHREP): A Concept Plan."
Examined how best to support stewardship and conservation non-profits in Canada for Environment Canada producing the report, "Appreciating the Values, Needs and Potential of the Stewardship and Conservation Sector in Canada: Strategic Directions for Funding and Other Support."
Delivered cooperative and collaborative recreation management strategies and environmental sustainability options for the North Shore Recreational Trail Framework.
Assisted with evaluation of interpretation and other communications for BC Parks. Conducted research for the MacMillan Provincial Park Interpretive Plan.
Completed feasibility studies of environmental education centres for Golden Ears Provincial Park and the Chatman Creek Outdoor Education Group. The Golden Ears Outdoor Learning Centre was established as a result.
Report on bear aversion in human-use areas for the provincial government and Get Bear Smart Society.
"Accessibility is More than a Ramp: Accessibility and Metro Vancouver Regional Parks" – Report and workshop on accessibility for Metro Vancouver Parks.
Researched and wrote sections of the North Shore Bear Hazard Assessment Report.
Assessed 12 urban creeks in North Vancouver and developed a profile for each.
Completed an environmental impact assessment for a proposed horse campground in Skagit Valley Provincial Park.
Developed a Bear Aversion Training Manual for the RCMP.
Helped with the Burns Bog Management Plan.
Conducted numerous field studies including stream surveys, fry trapping, vegetation surveys, and small mammal population studies.
Coordinated biannual bird surveys of Burrard Inlet and Indian Arm involving over eighty volunteers.
Wrote"Wild About Bears", an activity guide about bears, for teachers and environmental educators.
Developed the "Backyard biodiverCITY Education Program for the Vancouver Museum and trained volunteers in program delivery.
Supervised 7 Park Naturalists in Lower Mainland and Thompson River Districts of BC Parks.
Wild BC Workshop Facilitator – Deliver numerous train-the-trainer style environmental education workshops on various topics.